I write a lot about ramping up referrals over time, but if you're just starting out, it's important to first make sure that you have the right foundation.
What's the right foundation for a successful referral program? Here are three questions to ask yourself:
Do clients love the work that you do?
It all starts with quality work. If your clients consistently tell you that they loved working with you, there's a good chance that they're willing to tell their friends and family the same thing.
This isn't to say that you can't increase referrals if you regularly lock horns with clients, but your task will be much more difficult. My advice is to take a step back and start with customer service.
I'm not here to do a deep dive into customer service, but I want to mention a couple strategies that could make a big difference if you find yourself struggling here.
1. Offer a satisfaction guarantee.
I know, this may sound crazy if you feel like you're surrounded by dissatisfied customers. The point is to reorient your team around customer satisfaction.
As a first step, you could roll out a satisfaction guarantee with your team members before you start advertising it to your customers. A satisfaction guarantee gives a loose framework that you can use to start talking about specific changes to improve your service.
For some specifics, check out this list of 19 customer service recommendations. I especially like the recommendation about active listening.
Practice active listening:  Behind every customer call is a human being with a question or concern that needs an answer. They want to feel heard and understood. Approach each conversation with the goal of learning something and staying focused on the speaker. When they're done speaking, ask clarifying questions, and finish with a quick summary to make sure you're on the same page.
Keep this in mind – A satisfaction guarantee isn't a money-back guarantee. You're not taking a large financial risk here. All you're saying is that sometimes things go sideways, and if that happens, you'll stay engaged and do whatever you can to make sure that the customer is satisfied.
2. Ask for feedback, and take it seriously.
I'm a strong advocate for asking every client to share their experience.
Let's say you missed the mark with a particular client. It happens. If you give them a chance to share what went wrong with their project, they'll feel heard. You'll learn something and maybe get a second chance to make things right. You can also avoid negative reviews, which will tank your reputation online.
Here's the thing – If asking for feedback is a time-consuming process, it's not going to happen consistently. That's one of the reasons that I recommend using email automations. In nutshell: Send an automated email after every project that asks the client to rate their experience.
If you'd like help setting up an email automation like this, feel free to call 503.383.1648 or send a message.
Clients who give a low rating get an opportunity to share more about what went wrong. Make sure that the feedback gets to your management team, and follow up with clients to let them know that you got the message.
Do you have an engaged audience?
Before you can ramp up referrals in a meaningful way, you need an audience of people who trust you and look to you as an authority for solar or energy efficiency.
Thankfully, if you offer quality work and customer service, you already have an audience of people that trust you: Your past clients. 
The key is to engage with your past clients so that you stay relevant and maintain your authority over time. Life goes on for them, and unless you stay in touch, they'll forget about you. Relatively few will refer you.
Of course you have lots of options to engage with your past clients. I've seen the best results from sending a regular email newsletter.
A newsletter case study
One of my clients started by sending a monthly email newsletter to their past clients. They saw a steady increase in referrals that gave the client confidence to begin sending weekly emails in early 2020. 
We saw dramatic results from the weekly newsletter. Comparing 2020 to 2019, the client completed more sales appointments while spending much less to buy leads and run ads on Google. Their customer acquisition cost fell by about 23%, even in spite of the pandemic.  
Where most contractors miss the mark
Here are the biggest mistakes that I see solar and energy efficiency contractors making when it comes to referrals:
They fail to engage with past clients.

If they do engage, they waste their clients' time. 
Wasting your clients' time is a cardinal sin. How would you waste a clients' time? By sharing content that they don't care about. Whether you're writing an email, social media post, or something else, always ask yourself: 
Who's the audience?

What challenges do they face?

How can I help them get what they want?
Keep the interests of your audience at the forefront 
In Building a StoryBrand, Donald Miller writes that most marketing campaigns fall flat because they fail to focus on the parts of their offer that help their clients survive and thrive. 
Your client is the hero of the story. You're the guide, responsible for helping the hero overcome failure and get what they need to thrive.
If you keep this in mind, you won't hit the mark every time, but you'll go a long way towards building the following of clients that you need for referrals at scale.
Got a process to track and manage referrals?
Anything that you do more than once should have a defined process.
If you're serious about scaling a referral program, you'll need a process to automate repetitive tasks, track progress, and reward the people who refer you. Here you'll find a sketch of a low cost approach to tracking and paying referrals. 
A low cost approach to tracking referrals
If you've ever looked at software solutions to track and reward referrals [my hand shoots straight up in the air], you'll see lots of bells and whistles. At a minimum, what do solar and energy efficiency contractors need?
Thank the referrer:   It's really important to acknowledge the person who referred you. They put their name on the line to recommend you. Thank them, and let them know that you'll send a bonus if the person they referred does a project.
Support the salesperson:  If the referrer is a past client, make sure that their salesperson gets the new referral. Your referral program will fall flat if it doesn't have the support of your salespeople. Reward them for making it a success.
Pay the bonus: At the end of the project, you need to deliver. Depending on the structure of your referral program, you may need to pay the referrer, offer a discount to the person referred, or both.
Here's how to make these three things happen with as few inputs as possible:
First, get the name and email address for the person who gave the referral. If the referred person calls to schedule, the scheduler could do a quick search of your CRM to find the best email address. If the referred person schedules an appointment online, include some conditional logic in your website form to collect the contact information for the person who gave the referral. It could look like this: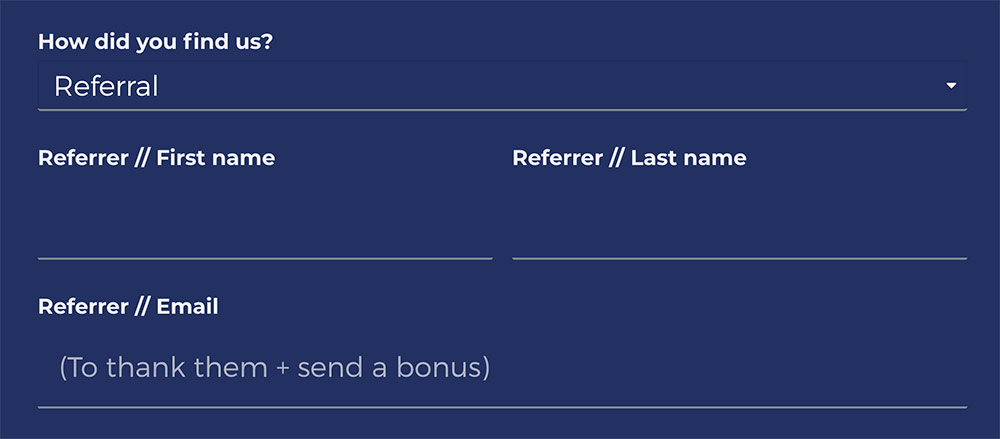 Second, send an automated thank you email to the referrer. After the initial set up, there's no input needed from your team. Just make sure you have a custom field for the referrer's email address in your CRM. That will allow you to send an email automatically with an email marketing platform like Convertkit. 
With custom fields, you can send automated emails that feel very personal. Like this automated email to Joe for referring Jill Biden (custom fields underlined).
Thank you for referring
Jill Biden

!
Hi Joe,
We just heard from Jill Biden. Thank you so much for putting us in touch!
A referral is the best compliment we ever get. If Jill decides to move forward with a project, we'll send you $500 via Google Pay.
Want questions or updates? Just reply to this email or give us a call at 555.123.4567.
Thanks again!
Third, to support the right salesperson, make sure your scheduler is trained to watch for referrals. The implementation will look different for different companies, but ultimately, this comes down to training your scheduler so that the right appointment ends up on the right sales calendar.
Fourth, pay out referrals. It's easy enough for the salesperson to give a discount on the project, but paying the referrer can be a challenge. Assuming you've collected the referrer's email address earlier in the process, the path of least resistance is to email the payment via Google Pay.
Final thoughts
There's a lot that goes into rolling out an effective referral program. You'll go farther faster by prioritizing these three things at the beginning:
Offer outstanding customer service.
Treat your past customers as one of your most valuable resources (they are).
Set up systems to track and manage referrals.